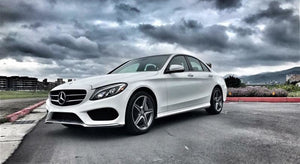 W205 C Class
---
Boost the look of your ride with our top-quality aftermarket accessories. Whether you want to add a touch of sportiness or simply enhance the sleek aesthetic of your C-Class Mercedes W205, you've come to the right place. From eye-catching front grilles and high-quality spoilers to sleek-looking side skirt fits, Mj Mods is here to amp up your C-Class and give it an energetic, aggressive look.
Browse our wide range of Mercedes C-Class W205 accessories
The C-Class Mercedes W205 has won the hearts of many with its powerful engine, extensive features and advanced safety technologies. Despite its popularity, many people who own or admire these vehicles may not know the diverse range of available accessories. Here are some of the best-selling add-ons at Mj Mods!
Front grille for Mercedes C-Class W205

— Crafted from high-quality ABS, this GT-R style front grille is built to last. Its durable construction can withstand even the harshest weather conditions and will never fade or deteriorate over time. Designed for a perfect fit with the

C-Class Mercedes W205

, this grille requires no modifications to your vehicle.
Carbon fibre rear boot spoiler

— This spoiler is the perfect way to enhance the look of your vehicle and add some downforce for improved performance. Made with high-quality materials and a UV-protected clear coating, this spoiler boasts a shining, smooth surface that will turn heads. It's crafted using a precision car data scan for accuracy, ensuring it fits your car perfectly. Whether against rain, snow or sun, this spoiler is 100% weatherproof and won't fade or wear over time.
C63 facelift style rear diffuser

— Upgrade your car's appearance to the sporty and aggressive C63 AMG look with our high-quality rear diffuser. This item is produced in ISO 9001 facilities, ensuring the highest quality in materials and construction. It features high-quality tabs that fit your car perfectly and the rear diffuser maintains its shape even in extremely hot and cold environments — creating a cohesive, streamlined and customised look for your luxury vehicle that remains intact no matter the conditions.
Elevate your ride with C-Class Mercedes W205 accessories from Mj Mods
Owning a Mercedes W205 C-Class is a privilege — and that privilege can be further enhanced with the right accessories. Mj Mods offers an extensive collection of premium-quality aftermarket gear designed to improve the look and performance of your car.
Browse our superior collection today, read through our FAQs section or contact us directly for more information tailored to your needs. Upgrade your Mercedes W205 C-Class today and enjoy a customised vehicle that'll impress every discerning car buff!