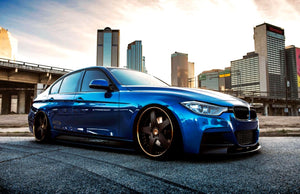 BMW F30 Body Kits And Accessories
---
Welcome to our website dedicated to offering a wide range of body kits and accessories for the BMW F30 F31 3 Series! We're delighted to have you here, where you'll discover an extensive selection of high-quality products to enhance the appearance and performance of your BIMMER.
Our passion lies in helping BMW enthusiasts personalize and transform their vehicles to reflect their unique style. Whether you're aiming for a sporty and aggressive look or a touch of elegance, our collection of body kits for the F30 3 Series is designed to cater to your preferences. From front splitters and side skirts to rear diffusers and spoilers, we offer a variety of options to elevate the aesthetics of your BMW.
In addition to body kits, we provide a comprehensive range of accessories to further customize your F30 3 Series. Browse through our selection of interior upgrades, carbon fiber accents, grille replacements, performance-enhancing parts, and more. We strive to be your one-stop-shop for all your F30 modification needs, ensuring that you can find everything you desire in one convenient place.
We take pride in offering exceptional customer service, aiming to make your experience with us seamless and enjoyable. Our dedicated team is here to assist you throughout your journey, answering any questions you may have and providing expert guidance in selecting the perfect body kit or accessory for your BMW F30.
Thank you for visiting our website, and we hope you find the ideal body kit or accessory to elevate the style and performance of your BMW F30 3 Series. Enjoy exploring our collection, and feel free to reach out to us if you need any assistance. Happy shopping!