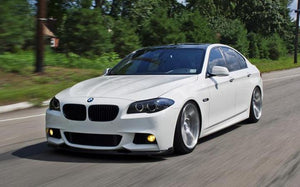 BMW F10 5 Series Body Kits And Accessories
---
Welcome to our website dedicated to supplying body kits and accessories for the BMW F10 5 Series/M5 (520i 525i 528i 530i 535i)! We're excited to have you here, where you'll find a wide range of premium products to enhance the appearance and performance of your Bimmer.
At our store, we understand that your BMW is more than just a vehicle; it's an expression of your personal style and passion for driving. That's why we offer an extensive selection of body kits designed specifically for the F10 5 Series. Whether you're looking for a subtle upgrade or a more aggressive transformation, our collection includes front splitters, side skirts, rear diffusers, spoilers, and more to suit your preferences.
In addition to body kits, we also provide a comprehensive range of accessories to elevate your driving experience. From spoilers to grilles and performance upgrades, we have you covered. Our goal is to offer you a diverse range of options to customize your F10 and make it truly unique.
We take pride in delivering exceptional and knowledgeable customer service, ensuring that your journey with us is seamless and enjoyable. Our knowledgeable team is here to assist you, answer your questions, and provide expert guidance in selecting the right body kit or accessory for your BMW F10 5 Series.
Thank you for visiting our website, and we hope you find the perfect body kit or accessory to enhance the aesthetics and performance of your BMW F10. Enjoy exploring our collection, and feel free to reach out to us for any assistance along the way. Happy shopping!