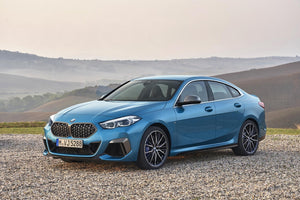 F44 2 Series Gran Coupe Body Kits And Accessories | MJ Mods Australia
---
Welcome to our online store dedicated to BMW F44 Gran Coupe enthusiasts! Here, you'll find a wide range of premium accessories and body kits specifically designed to enhance the style, performance, and functionality of your beloved BMW F44 Gran Coupe.
At our store, we understand that your BMW F44 Gran Coupe is more than just a car; it's a statement of your individuality and love for driving. That's why we have curated an impressive collection of accessories and body kits that will help you customize your Gran Coupe to reflect your personal taste and make it stand out from the crowd.
Our accessory catalog boasts an extensive selection of high-quality products that cater to various aspects of your BMW F44 Gran Coupe. Whether you're looking to upgrade the interior with luxurious trim options, enhance the exterior with aerodynamic spoilers and carbon fiber accents, or equip it with cutting-edge technology, we have you covered. Our accessories are sourced from reputable manufacturers who prioritize craftsmanship and design excellence, ensuring that you receive nothing but the best for your Gran Coupe.
In addition to our wide range of accessories, we offer an impressive collection of body kits designed to transform the appearance of your BMW F44 Gran Coupe. These body kits are meticulously crafted to seamlessly integrate with the original lines of your vehicle, providing a stunning visual upgrade that enhances both its aesthetics and aerodynamics. From aggressive front splitters to sleek side skirts and rear diffusers, our body kits will give your Gran Coupe a unique and commanding presence on the road.
When you shop with us, you can expect a seamless online experience, supported by a user-friendly interface and secure payment options. We prioritize customer satisfaction and strive to provide exceptional service throughout your purchasing journey. Our knowledgeable team is always available to answer any questions you may have and offer expert advice to help you choose the perfect accessories and body kits for your BMW F44 Gran Coupe.
So, why wait? Explore our online store today and unlock the full potential of your BMW F44 Gran Coupe with our premium accessories and body kits. Elevate your driving experience and make a lasting impression wherever you go.