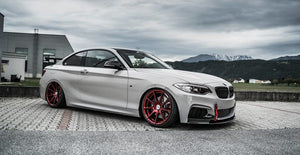 BMW F22 2 Series Body Kits | MJ Mods Australia
---
What is F22 Coupe?
The BMW F22 refers to the second-generation BMW 2 Series Coupe, which is a compact luxury sports coupe manufactured by the German automaker BMW. The F22 is part of BMW's larger 2 Series model lineup, which includes both coupe and convertible variants.
The F22 model was introduced in 2014 as a successor to the previous 1 Series Coupe. It is known for its sleek and sporty design, precise handling, and powerful engine options. The F22 2 Series Coupe is available in various trim levels, including the 228i and M235i, which offer different levels of performance and features.
The BMW 2 Series Coupe has gained popularity among driving enthusiasts due to its rear-wheel drive layout and engaging driving dynamics. It typically comes equipped with BMW's advanced technology and features, including a driver-focused cockpit, high-quality interior materials, and a range of safety systems.
It's worth noting that the information provided here is accurate as of my last knowledge update in September 2021. There may have been updates or newer models released beyond that date.
What body kits do we have?
At MJ Mods, we have a variety of accessories in our catalogue for your BMW F22/F23. They include:
Carbon fibre Full kit

 

— Transform your BMW M2 or M2C's appearance with our premium carbon fibre MP style kit and yet some more aftermarket manufacturer's special designs like EXOTic

. Improve your aerodynamics, speed and precision while adding a stylish touch to your ride. 
Carbon fibre front grille

 

— Protect your

 

BMW coupe

 

engine with our high-quality M2 style carbon fibre front grille. Its high impact resistance and excellent ventilation performance keep debris, such as leaves, out of the engine.