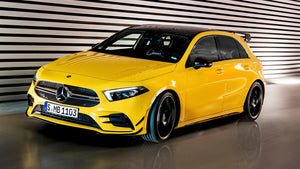 W177 V177 A Class: A200 A250 A35 A45S AMG
---
Welcome to our premier online store dedicated to Mercedes-Benz A-Class W177 and V177 enthusiasts! We are thrilled to present an extensive range of top-quality accessories and body kits specifically designed to elevate the style, performance, and functionality of your cherished Mercedes-Benz A-Class hatchback or sedan.
Our online store is your one-stop destination for all your A-Class customization needs. We understand that your Mercedes-Benz A-Class is not just a vehicle; it's a reflection of your taste and personality. That's why we have curated an exceptional collection of accessories and body kits that will enable you to personalize your A-Class and make it truly unique.
Explore our wide selection of premium accessories crafted to enhance every aspect of your A-Class. From luxurious interior upgrades like custom trim options and premium floor mats to innovative technology integrations and convenience enhancements, we offer a comprehensive range of options to elevate your driving experience to new heights. Choose from our carefully sourced accessories to create a tailored interior that exudes elegance and sophistication.
For those looking to make a bold statement on the road, our collection of body kits is sure to captivate your imagination. Meticulously designed to seamlessly integrate with the original lines of your A-Class, our body kits offer a range of stylish options to transform its exterior. Unleash your creativity with aerodynamic spoilers, sporty front splitters, eye-catching side skirts, and rear diffusers that exude both style and performance. Each body kit is engineered with precision to ensure a flawless fit and an enhanced visual presence on the road.
At our online store, we prioritize providing an exceptional shopping experience. With a user-friendly interface, secure payment options, and prompt customer service, we aim to make your journey effortless and enjoyable. Our team of knowledgeable experts is always available to assist you, offering expert guidance and advice to help you select the perfect accessories and body kits for your Mercedes-Benz A-Class.
So, don't wait any longer. Unlock the full potential of your Mercedes-Benz A-Class W177 or V177 with our premium accessories and body kits. Visit our online store today and embark on a journey of customization, transforming your A-Class into a true reflection of your style and passion for driving.